De lange afstandspaden (long distance walk routes)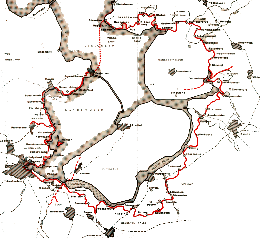 The association of long distance walks (LAW) in the Netherlands has laid out long distance routes (about 4000 km) all the way through the Netherlands (to go from north to south of the Netherlands is only 300 km!). Those routes are marked with red and white and go cross the country. There are also good books with descriptions of the routes (in Dutch) available. The routes are divided in parts reaching from 4 till 8 km
Zuiderzeepad
Beside the 'pietepad' this is one of the most famous routes of the LAW. It encircles the water and land that used to be sea. I walked some parts in the north and some parts in the south and south east. The route is beautiful and never the same. You walk along a dike, through forest and in grassland.

Pictures of some part of the Zuiderzeepad
Graaf Floris V -pad
Early this year I started to do the route called the 'Graaf Floris V-pad' which is an old route through the 'green' heart of Holland. We started out at Muiden which is famous for it's fort from count Floris days. The total route is over 200km and we covered the flowing:
In februari we did Muiden - Ankeveen, which is along the river 'Vecht' and you see some of the ex-peat area, which is now beautiful water
In march we went on from Ankeveen - Loenen, which is all ex-peat area.
We skipped a small part (which we want to do later) and started at Breukelen in april and walked along the 'hollandse dijk', which is all very old polder to end in Woerden along the 'Oude Rijn'. You could see the summer coming in all the trees along the way.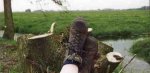 In may we went on from Woerden to Vlist, actually we went the otherway from Vlist to Woerden and did some more km then before.
In high summer we walked also in the opposite direction the part from Nieuw Lekkerland behind the dikes to Schoonhoven where we crossed the Lek and completed our tour after some drinks in Vlist.
In september we completed the part we skipped earlier between Breukelen en Loenen. From Loenen back to Breukelen we walked on the otherside off the beautiful Vecht.
In november we walked a weekend and we started at Nieuw Lekkerland and walked to the Abblasserwaard and seeing the windmills at Kinderdijk. We stayed in the budget hotel in Dordrecht 'De Hollandsche Biesbosch' and continued the second day through parts off the Bieschbosch. Allthough it was november and bare it was still nice to walk all those 'tiendweggetjes'.
Up till now we did 25 off the 42 parts and walked over 130km and still have about 100km to go before we reach Bergen op Zoom
Pictures of some parts of the Graaf Floris V pad